Downstream: A History and a Celebration of Swimming in the River Thames
By Caitlin Davies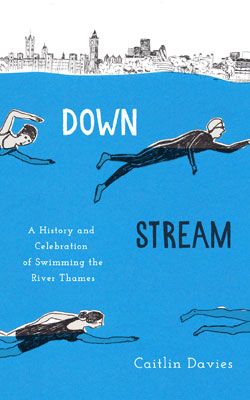 Caitlin Davies takes us from Thames Head to Southend, entwining part and present, in a truly bounteous book, brimming with swimming exploits and records, races and regattas, delights and dangers, paddles and picnics.
I was particularly struck by some of the parallels I found with my researches into the history of the Cam and other more modest rivers. One parallel is the extent to which river swimming was not only immensely popular, but officially encouraged, during the second half of the 19th century and much of the 20th. Another parallel, or paradox, is that despite this rich history, swimming is neglected in so many of the official records - partly I suspect, and as Caitlin suggests, because swimming was so commonplace. Caitlin has gone to great lengths to tease out stories of forgotten swimming celebrities in local archives and, in some cases, supplemented them from correspondence with their descendants. Agnes Beckwith is just one of many sturdy female swimmers, forgotten now but famous in their day, that she brings to life. We all know that Byron was proud of his three-mile swim from Lambeth Bridge but who knows that Agnes, in 1878, swam 20 miles from Westminster to Richmond and back to Mortlake? Such feats of endurance, by both men and women, feature prominently in this book, but there are a host of other stories. I warmed to the truculent member of Reading's Association of Winter Bathers who, in the closing years of the 19th century, interpreted the regulation against naked bathing by wearing his drawers on his head saying 'they said we had to wear them but they didn't say where'. Then there were the entertainers, such as the enterprising 'Professor' Jules Gautier who, in 1888, swam three and a half miles with his feet tied together in 55 minutes, and went on to perform even longer manacled-swims. And, as a campaigner for the right to swim in our rivers, I was delighted to learn of the fight, in 1882, between the Kingston Corporation, who had provided a pontoon in the river where women were allowed to swim, and officers of the Thames Conservancy, who wanted to move the structure in the interest of navigation. The fight, in which boat hooks were brandished, was won by the mayor and councillors and the pontoon remained. RALSA will certainly applaud that victory! Swimmers, and many non-swimmers too, will find much more to intrigue, amaze and entertain - for this is a long book as befits a long river.

Jean Perraton
Downstream is published by Aurum Press, hardback, at £16.99. Available from all good bookshops or online from Quarto Books

SWIMMING AGAINST THE STREAM - 2nd revised Edition 2013
By Jean Perraton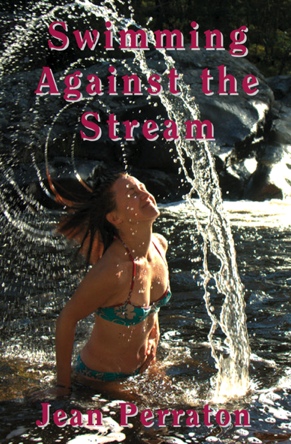 This wide-ranging book explores why swimmers are so unwelcome in England's lakes and rivers, why this needs to change, and what could be done to make it happen. After celebrating the joys of swimming through poetry and prose, and taking a quick dip into the history of swimming, Jean analyses the policies of public agencies that stop us swimming in lakes and rivers, and the legal constraints on access to inland waters that the 'right to roam' legislation has done little to improve. She shows that the statistics on drowning, and the health dangers of untreated waters, do not support the view of swimming as a uniquely hazardous activity. Swimming in natural waters is just the sort of 'sustainable' activity that public authorities should encourage - a healthy exercise that does little harm to the environment.
This is a practical book that suggests many simple measures that could widen opportunities to swim - immediately and cheaply. But, it argues, in the longer term we need a more comprehensive 'right to roam', similar to that in Scotland, and a 'right to swim' in our lakes and rivers.
Since its publication in 2005 there's been a resurgence in interest in wild swimming -- started by the late Roger Deakin and encouraged more recently by books, newspaper articles and television programmes. Behind the scenes, too, there's been progress in changing the attitudes of the policy makers and safety watchdogs - the Environment Agency, RoSPA and the HSE - as a result of campaigning by RALSA. But essentially the picture painted in this book is unchanged. It remains the only comprehensive analysis of the issues facing those who wish to swim freely in the rivers and lakes of England and Wales.

Swimming Against the Stream, updated edition 2013, is published by Jon Carpenter £16.99(post free) or £13.50 (post free) from Jean, 247 Hills Road, Cambridge, CB2 8RP. Ask your local library to stock it and help spread the word.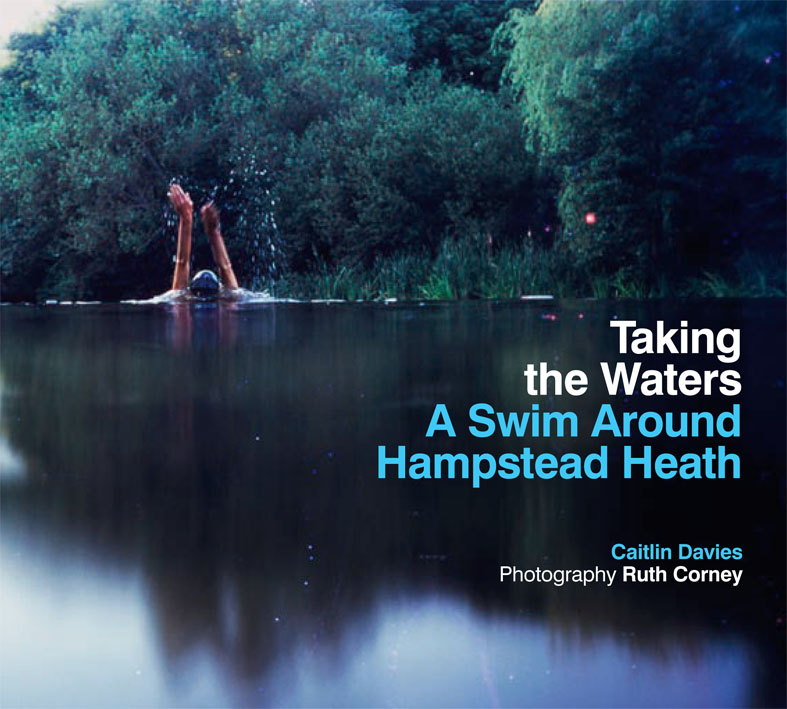 Taking the Waters: A Swim around Hampstead Heath by Caitlin Davies Photographs by Ruth Corney

Mark Thompson (RALSA) writes:

I swam on Hampstead Heath throughout the 1980s, and just accepted it as a timeless never- changing place, so it is excellent to have such a comprehensive history of the swimming ponds and lido.

Taking the Waters: A Swim around Hampstead Heath is a well-written and fascinating account of the ponds, lido and swimming on Hampstead Heath from the 1700s to the present day. It is beautifully put together with atmospheric contemporary photographs and wonderful archive photographs from the 1900s onwards.

I particularly liked the accounts of the controversies and disputes that occurred throughout the history of swimming at the ponds and lido. As a user of the ponds I was blissfully unaware of these, but would echo the commentary that most swimmers there did not really have any issue with nude sunbathing and the gay crowd. I never sunbathed naked at the Men's pond and my only memory of it was to think that the walrus beach effect on a hot day was vaguely amusing.

Another insight I found interesting was the high level of drowning during the Victorian age and beyond. Most of us would now say that Health & Safety has got out of hand but some good work must have been done by the RLSS and H&E lobby to bring the number of swimming drownings down to the very low levels we have today.

If you have ever swam on Hampstead Heath, or are interested in the development of open water swimming in this country, this book is highly recommended. After reading it I cannot wait to swim again on Hampstead Heath.

Available on Amazon: See Taking the Waters: A Swim around Hampstead Heath by Caitlin Davies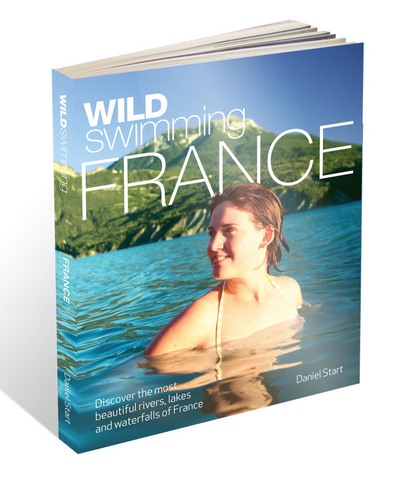 WILD SWIMMING France By Daniel Start

Jean Perraton (President of RALSA) writes:

Another splendid guide for swimmers from Daniel Start.

France is a swimmer's paradise – so many rivers and lakes and a culture that embraces swimming in them, so much magnificent scenery, so much variety, such warm sunny summers, and so much space– so that, as Daniel says, "everyone can find their little bit of wilderness."

Daniel's new guide features over 400 idyllic swimming spots, from brown-green rivers and placid lakes in northern France to aquamarine rock pools and canyons of Provence and Corsica, with clear maps and directions on how to find them, and all presented with a consistency and thoroughness that we found in his previous wild swimming guides. And, as before, we get useful nuggets of information about nearby camp sites, where to hire a canoe or buy your picnic lunch, as well as details about the terrain and local history. Daniel also gives us clues to finding our own swimming spots, and how to understand French swimming practice and etiquette. We need to be aware, he warns, of the yellow EDF signs that mean the river may experience some sudden increase in flow – not a tsunami, but enough perhaps to cut you off when picnicking on a river island.

But it is the pictures, of course, that will make this book a must-have for wild swimmers – and would-be wild swimmers too. A book for you to enjoy, to leaf through in winter trying to decide which enticing location to explore next, and to take with you when you finally where it will be.

£14.95 including P & P from Wild Thing Publishing. See www.wildswimming.co.uk/france.html to order a copy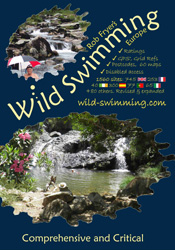 Rob Fryer's Wild Swimming Guide, 2016 edition
By Rob Fryer

Forget the unctuous adjectives of tourist literature and the like, ever glorifying in the wonders of this location or that. This book is not written to extol the virtues of wild swimming, or even to encourage you to take a dip, but simply to give you a practical and above all a critical guide together with any negatives. Surely it must be right for a guide to be critical? Rob has been writing it since 2000 and publishing every year since then, so you could say that it is now mature. With 1560 sites it is certainly the most comprehensive wild swimming guide ever. Most of the photographs show site views, which usually give you a better appreciation of a site than perhaps more attractive photos. The 60 bespoke maps have been drawn with love and care featuring, in addition, some historical scenes. Who wants a map with large empty areas on it? There is a sprinkling of historical anecdotes in the text too, to make it a little bit of fun to read.

Available from bookshops and www.wild-swimming.com website.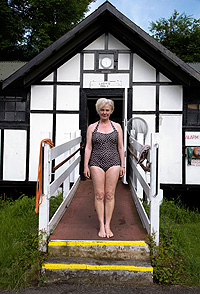 The Story of Swimming • Susie Parr
Jean Perraton, RALSA President and author of Swimming against the Stream, writes:
The Story of Swimming is a lovely book – engagingly written, lavishly illustrated, and beautifully printed – the ideal Christmas present for the enthusiastic swimmer. Susie Parr has cast her net widely to tell us about armour-clad Roman soldiers and heroic Norsemen, mysterious Selkies and Finfolk, drowning witches and cold-water physicians, dippers and bathing belles, swimming regulations and instruction manuals, bawdy ditties and lyrical poems, and a colourful array of contemporary wild swimmers – all skilfully woven into her analysis of changing social and economic conditions and changing attitudes towards swimming – as well as her own vivid descriptions of swims and swimming places. The book is a joy to look at as well as a joy to read, for Susie has been generous in giving us copious illustrations, early woodcuts and engravings, paintings and cartoons, posters and postcards and, of course, many fine photographs by her husband. Martin Parr, who doesn't swim, provides a somewhat more detached view of swimmers, sunbathers and watery places.

In such a wide-ranging coverage it might seem churlish to suggest some gaps, but two stand out for me. First, I would like more generous referencing to help me explore further some of the intriguing information Susie has uncovered, and an index to help find it again. Second, in her typology of contemporary swimmers, I would expect to read about Yakov Lev and his campaigning work. It was Yakov who led the long battle to re-establish swimming at Hatchmere Lake and who now, with Pete Roberts who does feature in the book, maintains a constant vigilance as, from time to time, this victory is threatened. The battle for Hatchmere led Yakov, with Rob Fryer, to set up RALSA where, as secretary and web-master, he took on the Environment Agency and the Health and Safety Executive, securing significant changes in their policies on swimming in lakes and rivers. I can understand how Susie came to miss him, for this determined campaigner shuns the limelight, but Yakov deserves a prominent slot in the Story of Swimming.

Having said that – this is a splendid book for swimming enthusiasts to read, enjoy and to dip into from time to time like their favourite swimming hole.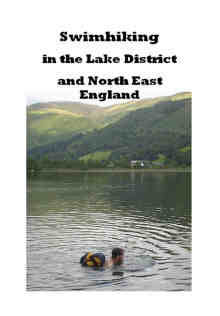 SWIMHIKING IN THE LAKE DISTRICT AND NORTH EAST ENGLAND
By Peter Hayes
Swimhiking is based on a simple idea: instead of leaving your clothes on the shore, take them with you in a swimsac. Once you are no longer tied to the spot you enter the water, all kinds of possibilities open up. If you have not tried it yet, this superb book will inspire you to set out on your own swimhiking adventures. Peter explains how it is easy to make a simple swimsac. The routes he covers take you across almost all the lakes and most of the best swimming tarns in the Lake District, as well as a selection of historic swimhikes in the North East. There is something for everyone including:
* Family Swimhikes. Swim across Windermere and walk to Beatrix Potter's house.
* Wildlife Swimhikes. Swim to Holy Island with seals and puffins.
* Heritage Swimhikes. Swimhike to Durham Cathedral and Hadrian's Wall.
* Challenge Swimhikes. Try the Frog Graham Round: 40 summits, four lakes and three islands.
Peter also draws on his professional expertise as a political theorist to argue succinctly that swimming in lakes and rivers is a natural right--regardless of what officious signs might say. The book is 200 pages long and includes numerous black and white maps and illustrations. Swimhiking is available from the swimsac website
WILD SWIM By Kate Rew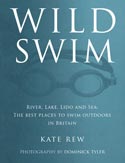 Wild Swim is a lovely book in all its aspects. Its tone accommodates comedy, glee, beauty, discomfort and hard fact. It's inspiring, without being prescriptive. It sends the mind out adventuring, but also makes specific adventure possible. There are some fine touches: the 'oil-rig' water that Kate finds roiling darkly around the legs of the Brighton piers, or Dominick's description of a llyn up in the Rhinog hills as 'gruff' – so unexpected as an adjective, so exactly right (not least because the Rhinogs has a healthy population of wild goats).
This is a wonderful - in the old sense of that word - and joyful romp of a book. It's been researched with bravery and impishness, and written with the same qualities: a dash of Huck Finn and plenty of Mole and Ratty. Roger Deakin spoke to me several times about his wariness of any commercialisation of wild swimming. He was concerned that the improvisation of it all would be lost. But I know that he would have approved of Wild Swim. This is a book that, like Waterlog, will launch a thousand swimmers. So go on. Dive in. (From the preface by Robert Macfarlane's) More on the OSS website.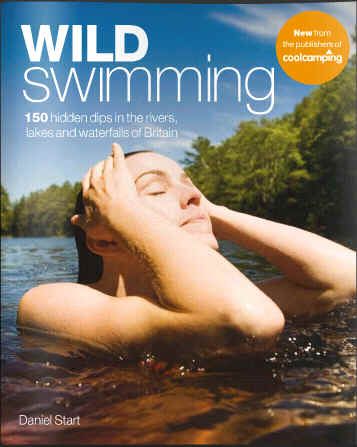 WILD SWIMMING By Daniel Start
Wild Swimming starts with a whistle-stop tour of wild-swimming past and present - with insights into history, science, society, nature and psychology. Then there's detailed information on how to enjoy one of Britain most traditional's pursuits - a pleasure that is in danger of being lost in our modern world. It will teach you about finding that perfect swimming hole, what to take and how to have fun while staying safe.
The main part of the book - almost 200 pages - is a great tour of Britain. Each of the six regional section begins with a summary map and the top highlights before diving into short 'area' chapters that describe a specific location renowned for its wild swims and natural beauty. Through the different stories you'll be able to swim with otters in Devon, go river-tubing in Yorkshire, night-swim under the stars in Oxfordshire and learn how to build a woodland sauna. In each chapter you'll discover famous wild-swimmers of the past and read stories of heroes, lovers and ordinary folk who have long enjoyed bathing under the willows. The book lists 150 purple wild swim boxes. They provide information on specific swims and cover water quality and safety, ideas for family days out, detailed directions and links to OS maps. More on the Wildswimming website



About the author:
Daniel Start spent his childhood river-swimming, dam-making and raftbuilding in Herefordshire. He trained as a naturalist and, at the age of 22, was taken hostage in the rainforests of New Guinea. His first book, The Open Cage, described his time swimming and trekking with riverine tribes and freedom fighters there and won the 1997 Writer's Guild Award for Non-fiction. He has spent the last five years documenting, photographing and exploring the wilds and wild waters of Britain.
Hung Out to Dry: Swimming and British Culture by Chris Ayriss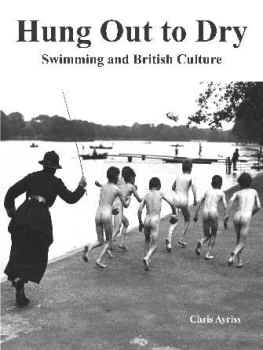 After years of discouragement by the Church, Britain led the world into a new association with water. Swimming and bathing took on unbelievable popularity, and as the Empire grew, so our culture spread abroad. The rivers, lakes and canals of this green and pleasant land became home to throngs of swimmers young and old. Yet Britain's pride in its swimming heritage has not endured. Today those who venture into rivers to enjoy their sport are termed 'wild swimmers' and are viewed, at best as eccentrics, though more often they are seen as lawbreakers. Guide books direct us to out of the way beauty spots where we can swim secretly away from the disapproving gaze of critics, but prejudice is evident everywhere. Hung Out to Dry is unlike any other book on this subject. Rather than bemoaning the fact that our freedom to swim has been restricted, it provides answers to the burning question that all wild swimmers have at one time asked: 'how did a nation of outdoor swimmers find themselves chased out of the water, rounded up and confined to indoor swimming pools?' Through this book you will discover how pride turned to prejudice as swimmers sparked the development of our unique culture of prudishness. The author feels that a pre-requisite to change is a true understanding of the problem.
The author describes himself as 'coming from the working class, lacking the education so many take as a prerequisite for publishing a book and battling with dyslexia'. Congratulations to Chris on his great achievement.
RRP £12.50 - Published by lulu.com - ISBN 978-0-557-12428-2 - Available in the UK at: www.hungouttodry.co.uk
From December 2009 it should be available to order from all good bookshops. Available worldwide from: www.lulu.com/content/paperback-book/hung-out-to-dry-swimming-and-british-culture/7686857
THE HENLEAZE LAKE STORY - by Derek and Joyce Klemperer

The Henleaze Lake Story is an account of Henleaze Lake and the Swimming Club from the earliest quarrying days. It tells the story of a magical place,warts and all, and has over 100 illustrations that have been collected over many years.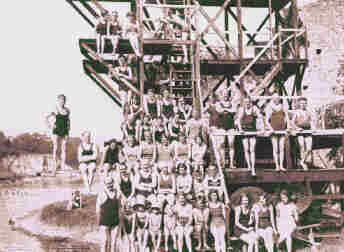 The book,published by Redcliffe Press at £5.00 was launched at the Club's Mid-Summer Party on the 23rd June 07. Copies can be bought from the Superintendents at the Lake between 11 am and 7 pm daily or from the authors at 25 Rockside Drive, Henleaze, Bristol BS9 4NU. For postal orders add £1.00 for p & p.
The lake is a flooded quarry located in Lake Road, Henleaze, Bristol and is fed by natural springs. It is a quarter of a mile long and sits in 9 acres of delightful grounds, which are owned by Henleaze Swimming Club - a RALSA founder member. The Club was founded in 1919. Swimming is from May to September and on New Year's Day! There is also a fishing section whose members have a good range of coarse fish available to them, with carp up to 20 lbs.
Not surprisingly, the Club is very popular, with 1,500 members and 800 on the waiting list. The fishing section is also full with 200 members. You can find out more about the club at www.henleazeswimmingclub.org.
CITY SWIMMERS NOW AVAILABLE ON DVD

The film City Swimmers captures the pleasures of swimming in ponds, lakes and rivers - summer and winter - and shows how swimmers are fighting back against threats from commercialisation, cost cutting and fears of litigation. The main story is the recent struggle to save swimming at London's Hampstead Ponds, but there is an entertaining account of how swimmers reclaimed Hatchmere, in Cheshire, and scenes of ongoing action at two Lakes just West of London. City Swimmers has shown to full houses in a London cinema. Directed by Margaret Dickinson.
Available from Moviemail www.MovieMail-online.co.uk Price £9.99
More information from: Margaret Dickinson [email protected] or Jane Shallice, Kenwood Ladies Pond, [email protected]



Pictures by Ruth Corney www.ruthcorney.com
WATERLOG By Roger Deakin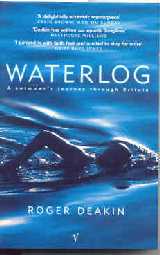 'Roger Deakin set out to swim through the British Isles. The result of his journey is a maverick work of observation and imagination, a uniquely personal view of an island race and a people with a deep, instinctive affinity with water. Encompassing cultural history, autobiography, travel writing and natural history. Waterlog is a personal journey, a bold assertion of the native swimmer's right to roam and an unforgettable celebration of the magic of water. A wonderful and romantic tale told by a true English eccentric ...'
[Michele Roberts, Financial Times].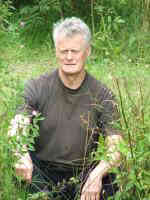 ROGER DEAKIN: the inspiration of wild swimmers dies
On Saturday 20th August, after an illness, Roger Deakin died. We remember him as the author of "Waterlog", the originator of the idea of "The right to swim", and as an inspiration to us all. It was Roger who lit the first candle in our hour of darkness. Before Waterlog the dull and grey safety regime seemed all pervasive and all powerful. After Waterlog the dull & grey safety "experts" look to be embattled. It is as if Roger made the flag which RALSA hoisted. Thank you Roger for inspiring us, and for encouraging us to live fuller and more joyful lives
Click here for Roger's obituary in the Daily Telegraph.&nbsp &nbsp or here for the one in the Guardian
See also Memorandum presented by Roger to the Select Committee on Culture, Media and Sport Click here
PUBLIC NAVIGATION RIGHTS ON NON-TIDAL RIVERS?

A book titled The Right of Navigation on Non-tidal Rivers and the Common Law by Douglas Caffyn has been recently published as a paperback by the author. The book, first written as a Master of Law thesis, claims that in Common Law there is a public right of navigation on all non-tidal rivers which are physically navigable by small boats and on those rivers which have been made physically navigable at public expense. It presents evidence that, prior to 1838, there was no distinction between the law relating to the public right of navigation on tidal rivers and non-tidal rivers although the ownership of the bed was different. In 1830 Humphrey Woolrych, a lawyer, wrote a legal textbook on waters in which according to the author, a keen canoeist, he made some fundamental errors. All subsequent cases have been based on Woolrych's interpretation of the law not on the law which remains unchanged. Woolrych got at least one fact right - he talks about the 'privilege of bathing'. This is disputed by the author on grounds that there is no Common Law right of bathing in the sea. Well, let's hope the canoeists get their rights. We can then argue about ours. Apart from presenting interesting and powerful arguments for the existence of public right of navigation, the book is also a very rich source of references. We have certainly learned a lot from it. For example, did you know, that in 2003 the Land Reform (Scotland) Act provided a statutory right of access to all rivers for recreational or educational purposes for non-motorised vessels? Perhaps there is hope for the rest of the UK as well.
For a copy send £10 to Douglas Caffyn, 255 Kings Drive, Eastbourne, E Sussex BN21 2UR.