---
Is the tide turning at Rutland Water?
---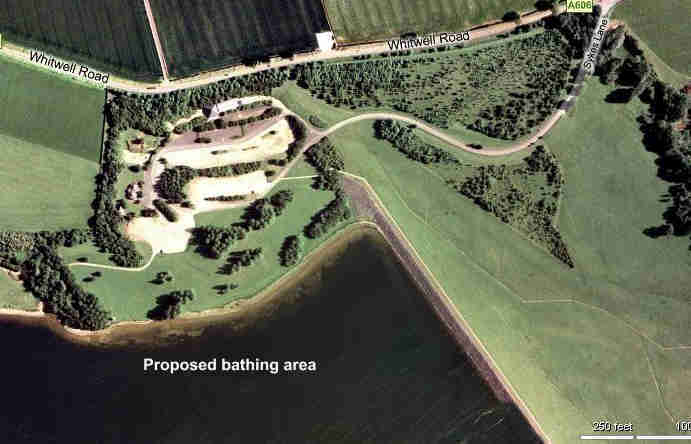 Rutland Water is an internationally famous nature reserve which is managed in partnership by Anglian Water and the Leicestershire & Rutland Wildlife Trust. The Reserve, a site of special scientific interest (SSSI) and a RAMSAR, provides one of the most important wildfowl sanctuaries in Great Britain, regularly holding in excess of 20,000 waterfowl.

The site includes a reservoir, built in 1970 by Anglian Water. A number of popular leisure pursuits (sailing, sailboarding and fishing) are catered for at the reservoir. Only occasional, organised swim events were allowed but there was no facility for swimming outside of these events.

Robert Aspey, a Senior Project Surveyor with Derby City Council and an Outdoor Swimming Society (OSS) Project Officer, approached the Rutland water visitor services centre in 2009 asking if it would be possible to go swimming anywhere along the edge of Rutland Water. The reply stated that there was no facility for swimming outside of the organised events.

Robert then suggested the possibility of establishing a bathing beach in line with the latest HSE guidelines (HSG 179 Managing Health and Safety in Swimming Pools) - a document designed to encourage and not deter operators from opening outdoor swimming facilities. He pointed out the
HSE addendum which explains how HSG 179 applies to managing health & safety in outdoor swimming lakes and signalled a major step forward with a common sense, down to earth approach to water safety.

Robert said: 'I think the publicity given to people associated with RALSA and the OSS on TV has helped to raise the profile of outdoor swimming and change attitudes amongst people with influence. Being able to show that I had the backing of the OSS and listing some of the health and safety measures and risk assessments needed, helped me to get taken seriously'.
The visitor service manager Kevin Appleton then suggested a site meeting in the Autumn of 2010, to which local representatives from the Amateur Swimming Association (ASA) and Leicestershire & Rutland Sport (LRS) were invited.

The group met on site and looked at an area they thought would be appropriate for a bathing beach: near to existing car parking, visitor centre, toilets, and with a gentle slope down into the water. Kevin said that there had been a change in outlook from management over the last 5 years, which had benefited Robert's proposals.

Following the meeting, Robert submitted a joint bathing beach proposal to the Anglian Water Board, on behalf of the OSS, ASA & LRS. The proposal sees volunteers (e.g. lifeguards) as playing a key role in operating the facility. Rutland Water management sent out a questionnaire to local residents asking if they would like to see a bathing beach included within future developments. The response was overwhelmingly in favour and the bathing beach is now included within the development strategy for Rutland Water.

Despite the breakthrough, Robert is cautious:
'All being well, the visitor services management would like to see a few initial openings in summer 2011, but there are no guarantees of this. They still have to complete risk assessments and operational plans. Things could still go wrong, but I will do my best to get the plans back on track if they do'.

Robert is now preparing a procedures document for anyone interested in pursuing the same objective, which is still at the draft stage. However, he sees no reason why others should not begin this process and he is always available to give people guidance.
Jean Perraton, RALSA's President expressed our feelings: 'This could be a useful precedent for approaching other water companies re other reservoirs. Congratulations to Robert!'

Robert can be contacted on [email protected].