---
PLACES YOU TOLD US ABOUT
---


SCOTLAND
Clare wrote:
Stream near Dail Cottage 6 miles up track from Bonawe quarries behind Loch Etive in Scotland. Loch is nice too but follow the stream up and there are marvellous waterfalls in the hills.
ESSEX
Charley wrote:
I live in Wivenhoe on the river Colne estuary and there is a nice little beach about 1 mile seawards up the estuary towards Brightlingsea. Trail path leads directly to the beach \'White House beach\'off the path to the right hand side, and on to Brightlingsea. River is tidal and mudflat bottom so can only swim at high tide but is safe and beautiful spot to enjoy the sunsets! Village on opposite bank- Rowhedge- has a quay which the villagers all swim off in the river during summer.
SHEFFIELD AREA
Joe wrote:
Slippery stones - lovely plunge pool, busy on bank holidays and weekends, is SK 168 950. During the week the road is open up to Kings Tree SK 167 937, but at weekends you have to park at Fairholmes SK 171 892 and get the bus. From Kings Tree you carry on up the valley on a forestry road for about half a mile and then the pool is about 200m up the river from the stone bridge.
Chatsworth river - beautiful park (with deer!) with a river running through it. Nobody ever seems to mind people swimming here, although my friends went down the river in a rubber ring as kids and were asked to get out by soldiers with guns!! It was the day of the Chatsworth Country Fair and presumably they were a serious security threat! Park in the Car Park at SK 258 685 and cross the road and follow the path down to the river, it's deepest just up from the weir at SK 259 690.
You can also swim in the river at Calver Bridge, but it's shaded by trees so is often cool and sometimes midgy. Added bonus of having a bridge to jump off. SK 243 753
SOUTH EAST WALES RIVER SWIMMING SITES
Paul wrote:
I am slowly compiling a list of sites in this area, latest additions Cefn Coed y Cymer, River Taff SO 037072 a lovely deep pool on the confluence of the 2 branches of the taff(a very secluded site.) Quakers yard railway bridge, River Taff ST 088964 to ST 090965 a combination of deep pools and shallower riffles, can get a bit crowded with local youths A4232 Bridge over River Ely ST 112762 A popular spot with locals from the Ely housing estate
CARDIFF AREA - RIVER TAFF
and sent us this picture of his favourite spot in the river Taff at Radyr Weir Just North of Cardiff OS Grid ST131808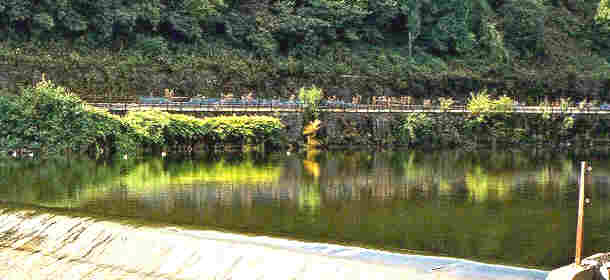 SEA SWIMMING IN CORNWALL
Sue wrote:
Here are my favourite sea swimming sites around here, in case anyone is heading for Cornwall this summer
Bossiney Haven - between Boscastle and Tintagel: A cleft in the cliffs with sandy base 3 hours either side of low tide. House-martin and fulmar nest on the cliff faces, a joy to watch. Caves. Good snorkelling. North-facing so better for swimming than the surfing beaches which tend to face west. Small parking area plus field in summer. Steep path down the cliff. Shaded towards the end of the afternoon.
Trebarwith Strand - just west of Tintagel: West-facing, beautiful long beach at low spring tides, only really uncovered 2 or 2 and a half hours either side of low water. Surfing usually good, swimming only peaceful when conditions are calm. A cheap body board can give hours of fun to all ages, addictive and exhausting, a bit like tobogganing.
Portquin - west of Port Isaac: A long narrow inlet, north facing, little patches of sand between the rocks. Can be good for a high tide swim if winds are right.
Lundy Bay - between Portquin and Polzeath, east of Pentire Point: North-facing, about 3 hours either side of low water. Big boulders at top of beach, sand below. Parking area on road to New Polzeath, walk to coastal footpath on public footpath through conservation-managed area and east along the cliff path to stream valley just above the beach.
Daymer Bay - on Camel estuary south of Polzeath: Busy in summer but good for a high tide swim, ditto the beach at New Polzeath. Out of season - watch out for kite-surfers and windsurfers!
If you're planning to visit North Cornwall, make it just after the time of new moon or full moon, which means midday low tides in North Cornwall. As tides are roughly an hour or so later each day, low tides then progress through the afternoons if you have a week's holiday. Otherwise it can be frustrating to find the tide always in on your local beach. Early risers are not so badly affected!

THE UPPER THAMES, OXFORDSHIRE
Andrew wrote:
Upstream of Oxford the Thames appears very clean indeed these days, and is quite slow-flowing outside winter. Favourite places of mine include:
1)From Port Meadow - close to the centre of Oxford - upstream or downstream of the Perch Inn at Binsey. On sunny summer weekend afternoons you'll find several people swimming here.
2)Upstream of the Trout Inn - from the Wytham to Wolvercote road, take the private Thames Water road just before the A34 flyover - climb over the gate and walk upstream. Not far along there, there's a bend in the river and the road goes straight on towards the lock. A small footpath follows the bend and there's a secluded area where you can change.
3)About half a mile upstream of Pink Hill Lock, on a sharp bend there is a shallow area which is easy to get in and out of. Just upstream from here is a straight section with reinforced banks which is ideal. Unfortunately it's impossible to get out of here except the place just downstream. A couple of ladders, one on either side, would be most welcome here.
4) Follow the dead-end road through the village of Eaton (off the Cumnor to Appleton road). Just before the end you can cut left and find some secluded places. I swam here one May morning at 6am. It was beautifully sunny but there was still frost on the grass and a mist coming off the warmer river water.
5)Upstream of the Maybush Inn, just south of Standlake. Follow the Thames upstream until you come to a fence and a stile. There are some large flat rocks here to help you get in and out.
6) From the riverside car park at Lechlade, walk upstream about a mile. There's a lovely bend here just before you reach the houses. Beware the tourist boats though!
Kate Rew wrote in the Observer (30/7/06): Try the river either side of Shillingford Bridge Hotel; most weekends friends and I park at nearby Dorchester-on-Thames, in Oxfordshire, and walk along the bank to Day's Lock in Little Wittenham. Further upstream try Lechlade and Kelsmcott.
Clare told us about Hardwick Parks Campsite nr Standlake, Oxfordshire - an ex gravel pit with nicely landscaped swimming areas.
SUSSEX
MIDHURST, WEST SUSSEX, GU29 0AQ.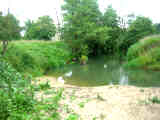 The site is 200 yards from COWDRAY CASTLE on the Eastern side of River Rother.
PARKING: Free all day in North Street public car park.
ACCESS: Walk down the Causeway 400 yards to the River Rother, turn left after you have passed through the metal gates and walk on the grass path adjoining the road for 100 yards, turn left, walk down a gentle slope to the river bank - all sand, and surrounded by bushes and small trees. Can accommodate up to 15 individuals without getting cramped. Water depth estimated to be a maximum of 5 feet. A very gentle current. Beach faces West and gets a lot of sunshine - for which Midhurst is justly famous.
GETTING THERE FROM LONDON: Straight down the A3 to Hindhead, turn left towards HASLEMERE and then turn right after circa 3 miles before reaching the town- proper down the A286 to MIDHURST. Allow 1.25 hrs from WEST LONDON.
ALL ABOUT MIDHURST: MIDHURST PAGES www.violetdesigns.co.uk.midhurst.htm
PICNICS: Comestibles of Midhurst. www.picnic-park.co.uk
NEAREST MID LEVEL RESTAURANT: Seven Fish, North St with wonderful terrace garden. For further information Click here Thanks to John for the information.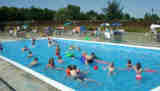 ARUNDEL LIDO
Mark wrote:
Just to let you all know that the Arundel Lido in Arundel, West Sussex, has now re-opened following several years of fundraising by the local residents. It's not a river I know, but it is a beautiful lido and the work done has been superb. It's on the edge of the town near the 'cop shop' and a few minutes walk from the railway station. You can then always go down to West Beach at Climping at high or mid tide and enjoy a refreshing sea swim.
HAMPSHIRE, SURREY, DORSET MIDDLESEX
Alison listed these places to swim out of doors:
Aldershot Lido, off Lower Farnham Road. Weekends in termtime, and most days during school holidays it is well staffed
Surrey: River Wey near Ripley and Pyrford - an open water meadow and great swimming in the navigable part of the river
River Wey north of Guildford, near Jacobswell: not suitable for young children as steepish banks. Off A320 between Woking and Guildford, at Jacobswell, turn east down Clay Lane. Just before bridge over the A3, turn right into Bowers Lane and car park. Turn left when at riverside and find a place where the bank isn't too deep. There is plenty of shade and in some places, wide grass verges on left of path. Swim shoes will help, as it shelves quickly. Water is deep, rather weedy at the edges in places, appears fairly clean (though there is effluent from sewage works further on!), and has a gentle current. You have to share with narrowboats!
Dorset coast: Dancing Ledge west of Swanage. An easy descent until the last few feet - you need to be agile on a sheer cliff face. A small rock pool has been carved out of the ledge. Temp around 16C in early June.

HERON LAKE OPEN WATER SWIMMING (www.openwaterswimminguk.co.uk)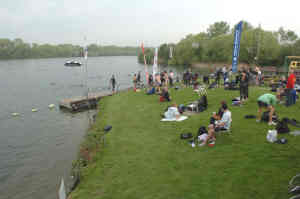 Martyn wrote:
Heron Lake is the premier open water swimming venue in the South of the UK. Located literally on Junction 13 of the M25, it has some of the cleanest and freshest water available as it is a natural source lake. The lake attracts upto 600 swimmers a week in the summer season with its doors opening at the end of April until Sept or when the water starts to get too cold!!!!
The lake has swim coaching available and welcomes all Swimming & Triathlon Coaches to come and use the lake to help improve their clients swimming ability. There is also a Café and Wetsuit Retail Store (www.hireawetsuit.co.uk) in case you forget your wetsuit, but also where you can purchase your wetsuit. It costs £5 to swim at the lake, which is donated to the British Disabled Water Skiing Association to help develop the facilities at the lake, which also directly benefits the swimmers.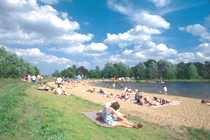 NORFOLK
Mark wrote:
Whitlingham country park has a big swimming lake. (Trowse) People used to swim by the bend in the river at the end of Whitlingham Lane. Also in the millpond by the floodplain on the right as you come into Trowse.
WAVENEY VALLEY SUFFOLK Grid ref 246817
Caroline wrote:
Come out of Harleston on the B1116 and when you have crossed Shotsford Bridge turn left on the B1123. There is a small boats sailing club on the left after a few hundred yard and the gate to it is usually locked when I go in the early morning but about 25 yards further on is a sandy layby where you can leave a car. Climb over the gate (perhaps not - See message from the sailing club below - please find another route) and a little path will take you a good place for getting in and out of the water. During the day there are a few small boats (no motors) but I generally have the place to myself. There is plenty of room to keep away from the occasional fisherman. Sorry I can't send a pic, you'll just have to imagine how lovely it is.
Next summer I hope to map the good swimming places of the Waveney Valley so would love to hear from anyone who could help.
Phil Stearn from the sailing club wrote: It is a private sailing club and we have had a lot of damage and theft by people climbing over the gate to get access to the dinghy park. The lake is accesible via other means and there is no need to enter the dinghy park. thanks in advance.
OXFORD AREA
Nick of the West Oxford Wildlife Group wrote:
Tumbling Bay - We swim at an old bathing place/lido on an offshoot of the Thames, just before it enters Oxford called Tumbling Bay. It was originally built in the 1920s (I think) for the local children to have their swimming lessons in, amnogst other purposes. Oxford City Council closed it as an official bathing place back in the 1980s but it is regularly used by between 10 and 30 people a day during the summer months. The west oxford wildlife group has obtained funding to rennovate the area, including rebuildin the wooden bridge and 're-treeing' the surrounding area. click here for Malcolm Graham's article on this site - past and future.
N. WALES (Nr.Wrexham)
Simon wrote:
Blue Lagoon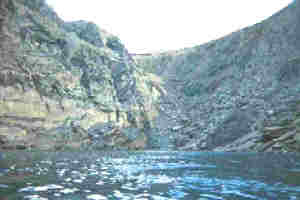 From Llangollen take the A542 towards the Horseshoe Pass, when you arrive at the Ponderosa Café it is best to park in their Car Park (also useful for when you return for a nice warm cuppa) and walk directly opposite up into the Quarry in the second of the large Holes created by Quarrying you will find the Blue Lagoon or the Blue Pool as some call it. This pool is only for experienced swimmers as it is 12m (about 40ft) deep. Almost every warm day you will find swimmers and divers at the pool including myself where the more adventurous climb to about 15 to 20ft and jump off the rock ledges into the pool. I would suggest bathing in the water first to adjust to the temperature as it can have quite a chill to it. It is also ideal for snorkelling as there are some quite breathtaking underwater scenery and rock formations The pool is a crystal blue colour, I expect due to large copper sulphate content in the water.
MID WALES
You will find a happy village atmosphere at Island Fields in Brecon - a natural gravel beach with a deep pool and picnic area, or Crickhowell on the Usk it has a big pool by a lovely arched bridge in the village. On the Wye try Glasbury Bridge near Hay. (Paul Kent of the Welsh Wild Swimming Club in the Observer 30/7/06)

SHROPSHIRE
Shropshire Hills Discovery Centre The Shropshire Hills Discovery Centre and its associated Onny Meadows are situated to the South East of Craven Arms, South Shropshire. The site, managed by the local Council, has been developed as a tourist and education facility to interpret and promote the Shropshire Hills and the wider countryside. It consists of 11 hectares of planted wildflower meadows, hedgerows and trees/woodland.
At the Centre there is a free car park, a cafe and toilets, a shop, the town library, and meeting / activity rooms. From the meadows there is easy access to the River Onny. As the Meadows are open, the River is accessible at any time. The Centre seems to be not only an interesting place to spend a day out with the family but a truly friendly, welcoming place. We were informed that the Centre even welcomes all wild swimmers! Click here for further information.
WORCESTERSHIRE / HEREFORDSHIRE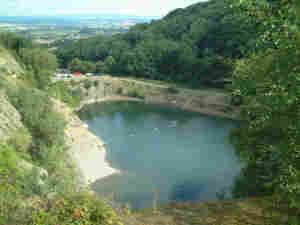 Janice (solomon.dill?@?tiscali.co.uk) wrote:
Gullet quarry - We swim at a disused quarry at Castlemorton.There has been one or two fatalities in the past 5 years. it is a very popular place to swim. There is quite a bit of controversy about the Gullet quarry saying it should be closed down. the recent headlines in our local newspaper read: 'Sightings of people diving off cliff!' - kids have always jumped off the cliff even tho it is now fenced off. On the road map, look for Hollybush which is between the roads B4208 and A438 If you are on the B4208 which runs thru Castlemorton Common turn off opposite the Plume of Feathers or the Robin Hood (pubs) and head west up to the Malvern hills. Best to go opposite the Plume and just keep going straight up that road until it forks and the car park is just 200yds up, from the right hand fork If you come from the A438 you head north and when that track forks, take the left hand fork and you come to the back car park of the lake If you are going to come up for a swim, please e mail first so we can meet you there It is lovely to swim in, deep and cool. Bring some trainers as the sides are steep and rock

Rivers Wye and Teme - The River Wye in Worcestershire and Herefordshire is wonderful to swim in. The best place I know to go to is Symonds Yat near Ross on Wye Herefordshire. We also used to swim in the Teme near the salmon leapsnear Powick Worcs.
YORKSHIRE DALES NATIONAL PARK
John from Harrogate wrote:
Appletreewick is a village in Wharfedale between Burnsall and Barden, overlooked by Simon's Seat which marks the junction with Nidderdale. It has an exceptionally beautiful stretch of the river Wharf, two pubs and two campsites. The river can be approached at various points along a path from Burnsall, or by users of the Mason's lovely campsite, or from various points closer to Barden, south of the river. Mostly it is deep enough for bathing but not for swimming, but after a set of minor rapids (used by children in a rubber dinghy), there is an idyllic pool with rope swing and landing area. This is one of those areas which one almost wishes to keep secret, but as a new member of RALSA, I feel I owe a contribution to our great cause.
WEST YORKSHIRE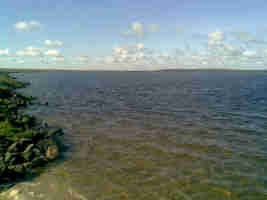 Jolyon wrote: These two good swims are hard to access by car 1. Lumb Falls near Hardcastle Crags near Hebden Bridge West Yorkshire. Spectacular waterfall to dive into. 2. Gaddings Dam near Lumbutts up the hill from the Shepherds Rest Public House near Todmorden (right). Disused big reservoir with sandy beach saved from being drained by locals who now own it.
Much more on Paul Nicholson's Gaddings site Click here
DERBYSHIRE
Pete wrote: Derbyshire is a bit difficult. The Derwent river where it flows through the Chatsworth Estate is a favourite with people here and the same river at Belper is also possible.
Rob reported Panniers Pool 4 miles SW of Buxton. National Grid SK009683 near Three Shires Heads 100 yards downstream of Packhorse Bridge. You will need a good map and footwear.
Phil told us about River Trent swim nr Derby:
The Trent is a good swim , near Swarkestone on the A514 south of Derby by the Crewe and Harper pub- enter by the bridge
You can also swim in the quite warm river Dove near where it crosses the A38 from Derby to the A5 at Tamworth. There are 2 lovely old bridge in addtion to the main road bridge, water runs quite fast at this point- not too deep, OK for younger children as well.
BUCKS / BEDS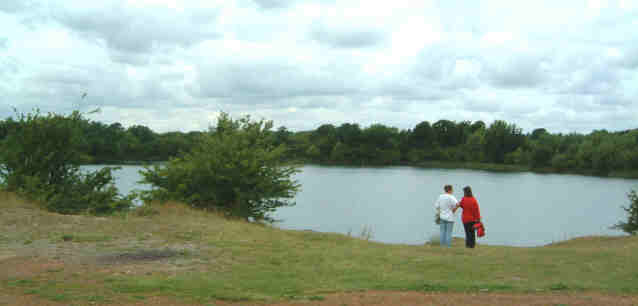 Blue Lagoon in Blue Lagoon Park, just south of Bletchley, Milton Keynes. Blue Lagoon Park is a local nature reserve, just off (signposted) Drayton Road on the west side of the railway line, Water Eaton, Bletchley. Location on OS Map 152 is SP 865 325. The temperature there on 26th July was 18C. It was still 18C on the 13th September. Water clear, no weeds. The local council has cleaned up the shallow edges of stones & bricks and put in a sort of jetty with steps made from sandbags and concrete on the top making access easy. Parking area and a good picnicking place too. Not very well known.
Pleae contact Louis Oley on 01908 585784 or email [email protected] if you are interested in joining a local group.
We have been recently informed that Milton Keynes Council does not allow swimming in the lake or in any other waters owned by them (July 2004).
Digger wrote:
There are a few people who swim regularly in some of the lakes like Caldecotte (although note there has been a recent drowning). Personally I head out of MK on the A509 to the rather nice village/town of Olney. There are several good swimming spots in the River Great Ouse to the east of Olney. Just follow the footpath next to the river from the church. There is even a spot near the playing fields with concrete steps although the water is a bit shallow for me. Have fun (but swim safe).
Mark told us:
There are some well used swimming places in the River Great Ouse within walking distance, all easily accessible from the Ouse Valley Park. They are at the bend in the river behind the New Bradwell allotments near the Stonebridge roundabout and in the deep pool just to the West of the Railway viaduct, accessed from the Haversham Road picnic area car park. A very well known spot is Tyringham bridge, just off the B526 between Newport Pagnell and Stoke Goldington. However on sunny afternoons this is well used by local youths, complete with their blaring ghetto blasters or car stereos. Finally, there is always the local authority open air Lido at the end of Aylesbury Street in Wolverton!
Sara from Bedfordshire wrote:
When the water quality permits and the river isn't running too fast we take the kids down to the old bridge at Oakley where there is a lovely cool pool under the bridge itself and several shallow pools in the river downstream from the bridge. Although there are only a few spots deep enough to actually swim in, the river is very pleasant just to sit or paddle in. It is wise to wear something on your feet when you go in.
LONDON AND THE THAMES
Mary wrote:
Tooting Bec Lido, and the Serpentine (or Highgate ponds - ed) or swim in the Thames.
There is Frensham Great Pond SU845402 (A jolly swim) for some really good swimming go to Clifton Hampden or Lechlade (Thames SU547955 and SU205987) Or go and live in Cambridge and swim in the Cam!
Rob Fryer (author of 'Cool Places') wrote:
The Thames from the London end - best places:
Hurley Meadows caravan park (no need to have a caravan), Clifden Hampden Duxford (difficult to find, down a private-looking pea-gravel path beside a tiny thatched cottage). Rushey Weir Pool(loads of picnic space)
SOMERSET
Lesley wrote:
Wimbleball Lake (reservoir) is about 5 miles to the West of a small town called Wiveliscome, on the edge of Exmoor. The other side of the lake from the sailing club is good as there are few boats, and it is peaceful for a great swim, and shallow places so not too cold. Walk down the public footpath for 600 metres from the car park at Grid Ref. SS 986 302. When you reach the lake, turn left onto the "permitted path". There are no signs, so I am not sure whether it is allowed or not. The reservoirs in the South West of England are managed by the "South West Lakes Trust" and there is a web site. However, there is NO mention of swimming on the web site!
Also, Wiveliscombe is a great small town with its own heated outdoor pool. Shame is only open June through August though.
WEST MIDLANDS
Jonathan from West Midlands told us about Swan Pool in Sandwell Valley, Sandwell West Mids. The pond is lifeguarded by Sandwell Council. It is open only to members of a triathlon or long distance swimming club who hold a proficiency certificate for 800m. The pond can be a bit green, especially in the strong sunlight but a good distance swim of 800m is marked out. Opening times: sun 9-10.30am mon and weds 6.30 - 8pm
WILTSHIRE
Derek from Lyneham, Chippenham, Wiltshire wrote:
Wiltshire has an open air swimming pool at Malmesbury. Its a bit 1960s but its outdoor and very popular. It is also situated in the middle of a housing estate. Operated by North Wiltshire District Council.
KENT
Nigel who now lives in Tunbridge Wells, Kent was brought up in Oxford and enjoyed the Public River pools there (now closed) at Long Bridges. He was not going to be dissuaded easily from river swimming and with his young sons Sam and Dave spent a lot of time roaming the countryside around Tunbridge Wells with ordnance survey maps looking for the elusive "ideal swim". He would like now to share the results.

Kent's main waterway is the River Medway . It rises in the Ashdown Forest and flows in a quiet green valley , round the edge of the Weald, until the valley broadens out after Tonbridge into the old Hop fields of the "Garden of England".
Above Tonbridge a dam and reservoir hold the flow back and the river changes below this from a small river to a large waterway. There is some boating activity at Tonbridge and more further downstream at Yalding but there does not seem to be any idea that the river could be used purely for swimming.
When the children were young I explored the river above Tonbridge, from Penshurst to Hartfield where the river is relatively small and winds between high clay banks with occasional rocky bottom shallows and associated loops and pools.
Although my favourite times were actually trekking and swimming some distance along the river , here are the best of the places where we regularly swam. Most were subject to tree clutter which needed finding and dragging out and access from the high clay banks could be problematic.

Medway Ashurst Weir pool
Under the railbridge from Tunbridge Wells and left down the side of the river bridge. A large Victorian weir pool with a gravelly bottom and good access.
http://www.streetmap.co.uk/streetmap.dll?G2M?X=550605&Y=138885&A=Y&Z=3
http://www.streetmap.co.uk/streetmap.dll?G2M?X=550605&Y=138885&A=Y&Z=3
Location is at 550605E 138885N (N51:07:46 E0:09:03)
We received the following message from Bromley Angling Society regarding swimming at Medway and Beult (March 2008):
Noticed on your site references to swimming in the Medway at Ashurst weir. Be aware this weir pool is extremely dangerous at all times and the land on both sides is strictly private. swimming is NOT allowed under any circumstances. The same warnings apply to swimming in the Beult at Hunton, this land is strictly private and swimming is NOT allowed.

Medway Poundsbridge pool
Our favourite for a long time until the pong from the dog one afternoon persuaded me to look for cleaner waters. Down the bridle path next to the little church and graveyard at Poundsbridge and across the field to the bridge. Below the bridge is a quite decent pool which the local Speldhurst children have used (they told us) for an age. Access down the banks or via the shallows a few yards downstream.
http://www.streetmap.co.uk/streetmap.dll?G2M?X=553335&Y=142095&A=Y&Z=3
http://www.streetmap.co.uk/streetmap.dll?G2M?X=553335&Y=142095&A=Y&Z=3
Location is at 553335E 142095N (N51:09:27 E0:11:29)

Poundsbridge Cow pool
Just behind the church and down the hill at poundsbridge we found a ten yard square reservoir fed by springs from the other side of the road. This makes for a small but amazingly cool and clean swim even in the height of a hot summer. Access could be squidgy but judging by the rope swings and improvised boards was popular locally.
http://www.streetmap.co.uk/streetmap.dll?G2M?X=553555&Y=141690&A=Y&Z=3
http://www.streetmap.co.uk/streetmap.dll?G2M?X=553555&Y=141690&A=Y&Z=3

Medway Tonbridge cannon lane
The Tonbridge School boathouse is just down cannon lane on the left and has a large landing stage for the boats which was excellent for a quick swim though a bit deep and dodgy for children and not easy to get out for a dog.
http://www.streetmap.co.uk/streetmap.dll?G2M?X=559840&Y=146525&A=Y&Z=3
http://www.streetmap.co.uk/streetmap.dll?G2M?X=559840&Y=146525&A=Y&Z=3
Location is at 559840E 146525N (N51:11:44 E0:17:10)

Beault Yalding
We moved onto here after experiencing a smelly swim at Poundsbridge. This is a smaller river with rocky shallows and pools but MUCH cleaner. Access again limited the places where we went but excellent for trekking. After a few years the local farmer put up an enormous barbed wire fence along BOTH sides of the footpath which runs alongside the river but there are still nice swims near Mill lane.
http://www.streetmap.co.uk/streetmap.dll?G2M?X=570115&Y=149550&A=Y&Z=3
http://www.streetmap.co.uk/streetmap.dll?G2M?X=570115&Y=149550&A=Y&Z=3
Location is at 570115E 149550N (N51:13:11 E0:26:04)

Beault Hunton
The star swim!! Get into Hunton village and turn down Water Lane. Towards the end there is a dogleg right , an oast and a few cattages with parking. Park there and continue down the footpath to the river bridge. The river there is backed up by the mill further downstream into a ten yard wide 8ft deep clean dream. The bridge can be dived off (after safety checks for trees etc), the bottom is coarse sand/gravel and the visibility is good 4-20 ft depending on the time of year. Access to the water is again from high banks but upstream from the bridge a few yards is a shallow (3ft) tributary, the Teise I think, which can be jumped into directly . The local fishing club also kindly provide stands with the vegetation cut down which can be used.
http://www.streetmap.co.uk/streetmap.dll?G2M?X=571420&Y=148320&A=Y&Z=3
http://www.streetmap.co.uk/streetmap.dll?G2M?X=571420&Y=148320&A=Y&Z=3
Location is at 571420E 148320N (N51:12:30 E0:27:10)
See also message from Bromley Angling Society further up this page.

Eden Edenbridge weir pool
The original and good quality but furthest from Tunbridge Wells. When I worked at Edenbridge I asked my colleagues where the locals swam and they told me of this old Victorian weir pool upstream from the town about a mile. Only marked on the larger scale maps this was bliss when discovered . only a few yards across but with gravelly bottom and both a deep and shallow section.
http://www.streetmap.co.uk/streetmap.dll?G2M?X=544080&Y=145460&A=Y&Z=3
http://www.streetmap.co.uk/streetmap.dll?G2M?X=544080&Y=145460&A=Y&Z=3
Location is at 544080E 145460N (N51:11:25 E0:03:37)

DEVON
Catharine from Birmingham wrote:
I lived on Dartmoor in Devon for 11 years where I swam in natural pools in the river Dart, which is for me, the most beautiful river in England
Kate Rew wrote in the Observer (30/7/06):
Dartmoor is teeming with places used by villagers. The water here is pure, although stained brown by peat. Try the two pools at Spitchwick (near Ashburton) or the 32 pools along the river from Cadover Bridge on the Plym
BRISTOL AREA
Rob sent us this list of swimming places within 50 miles of Bristol:
Henleaze SC, Farleigh & District SC, Farleigh Hungerford, Warleigh Weir, Claverton, Baltonsborough ("Danger, no swimming" notice 2003), West Lydford, Freshford (closed), Symonds Yat (warm), Skenfrith, Usk, Crickhowell, Heytesbury, The Langfords, West Harnham. Figheldean
Would you like to tell others about your favourite swimming waters?
Please email us with a description and one or more photographs. Thanks.