The Health and Safety Bonkers

Clearly it is not the Government or the HSE who are dreaming up ways of curtailing our liberties. It seems that those responsible are some elements of the health and safety industry to which we will refer as the Health and Safety Bonkers (HSB) - a phrase coined by a Government Minister to describe those who want to ban conkers. So who are the HSB?
By and large these are independent safety consultants and activity or safety-related charities who are in a position to issue recommendations and guidelines which site operators feel obliged to implement in order to fully cover themselves in case of a mishap. Members of the HSB share one aim: to promote safety. They have no duty or interest in balancing safety against quality of life and, by not being accountable to the public, are free to dream up any policy they wish. Ironically, by following this blinkered approach they have, at times, even lost sight of their own objective - the enhancement of public safety ! Examples of that are their contribution to the destruction of UK's tidal pools (which are much safer than the open sea) Click for details and to the restrictions on the admission of young children to swimming pools which make those affected generally more vulnerable to accidental drowning.
See also the new Elfn Safety site dedicated to exposing how excessive H&S regulations interfere with our lives.


And this is what some prominent people had to say [occupations apply to the time of making the statements]:


Tony Blair MP, Prime Minister

'Everything we do in our everyday activity in work or leisure involves an element of risk. Risk is central to the enjoyment of all adventure activities.'
Referring to the risk of closure of the Harrogate ponds: 'The current situation and the new guidelines have given rise to a complete nonsense because I think parents are perfectly well able to judge how they are best able to look after their children.'
'Swimming is a fantastic sport and we must do all that we can to encourage children to take it up and for families to make full use of their local facilities ... we need to place more trust in the judgement of parents and not stifle people's natural enthusiasm for swimming'

"We are in danger of having a wholly disproprortionate attitude to the risks we should expect to run as a normal part of life. It results in a plethora of rules, guidelines, responses to scandals of one nature or another that ends up having wholly perverse consequences." [Tony Blair's speech on compensation culture 26th May 2005] ...More
Richard Caborn MP, Minister for Sport and Tourism

In a letter to RALSA (16th February 2005) Mr Caborn wrote: 'I am well aware of the popularity of swimming in open water and the health benefits of taking part in regular exercise of this kind.'
'This Department, of course, has an interest in this issue as I am keen to maximise the opportunities not only for people who enjoy swimming but for people who enjoy other recreational purposes as well.'
'I can assure you that DEFRA, along with this Department, Sport England and other interested Government departments and agencies, will continue to look closely at access to open water issues and are working together to resolve this issue in a way that is satisfactory to all concerned.'
'I also appreciate your concern about the future of the swimming ponds at Hampstead Heath and can assure you that the Department does not want to see valuable public assets such as this lost to the community.'

Bill Callaghan, Chairman, The HSC

In an interview given to the Financial Times (21/2/05) Mr Callaghan complained of: 'regulatory creep from authorities who took a reasonable rule and then added to it and embellished it.' He called for a sense of proportion in assessing risks and turned the popular perception of the HSE on its head by hitting out at heavy-handed rules covering paddling pools, gravestones, games of conkers and parish walks. He quoted the letter recently sent to local authorities regarding paddling pools and added that the approach taken by some councils 'risks creating an environment where [paddling] pools that currently pose little risk, are in danger of closure'

Jane Kennedy MP, Minister for Work,

Referring to those who take an excessively risk-averse approach and who want a risk-free society: 'I regard them as bonkers, because it happily rhymes with conkers, which they want to ban.'
Referring to the risks associated with outdoor pursuits: ' we cannot ignore the risk or the requirement to be aware of it and to manage it. However, we must manage it sensibly. In the case of adventure activities, the challenge is to regulate it sensitively so that we continue to allow those involved to be exposed to and to enjoy a level of risk that does not stifle experimentation and development. That is important.'
'The HSC accepts that risks cannot be eliminated from society without disproportionate cost-if ever-and that risk elimination is undesirable except in extreme cases. It seeks instead to encourage sensible risk management and appropriate controls where required.'
'We need a sense of proportion in assessing hazards and an end to over-zealous red tape. The ... example of the ratios of adults to children in swimming pools is one such case'.

Judith Hackitt, Chairman, the HSC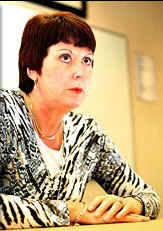 In an article by Richard Tyler titled 'A healthy attitude to risk' , published in the Telegraph on the 1/12/07 the new Health and Safety Commission (HSC) Chairman Judith Hackitt declared her aim to shatter the 'conkers bonkers' image of the organisation.
Judith Hackitt who took over the job from Bill Callaghan is reported to be keen on white water rafting. A Chemical Engineer with 25 years of hands-on experience in the petrochemical industry it is not surprising that she has developed a healthy approach to risk management.
Mrs Hackitt believes that the HSC's reputation is being damaged by the actions of over- cautious insurers and over-zealous local authorities. She believes that the HSC has an important role to play and is concerned that the effect of conkers, bonkers, Christmas decorations and such like debates is that they detract from it.
Click here for more.
Lord Hobhouse of Woodborough

'It is not, and should never be, the policy of the law to require the protection of the foolhardy or reckless few to deprive, or interfere with, the enjoyment by the remainder of society of the liberties and amenities to which they are rightly entitled'
'They (the arguments for the claimant)attack the liberty of the individual to engage in dangerous, but otherwise harmless, pastimes at his own risk and the liberty of citizens as a whole fully to enjoy the variety and quality of the landscape of this country. The pursuit of an unrestrained culture of blame and compensation has many evil consequences and one is certainly the interference with the liberty of the citizen.' [Tomlinson V Congleton 2003]
Lord Hoffman

'Any premises can be said to be dangerous to someone who chooses to use them for some dangerous activity.'
'there is obviously some degree of risk in swimming and diving, as there is in climbing, cycling, fell walking and many other such activities.'
'I think it will be extremely rare for an occupier of land to be under a duty to prevent people from taking risks which are inherent in the activities they freely choose to undertake upon the land. If people want to climb mountains, go hang gliding or swim or dive in ponds or lakes, that is their affair.'
'The Court of Appeal made no reference at all to the social value of the activities which were to be prohibited. The majority of people who went to the beaches to sunbathe, paddle and play with their children were enjoying themselves in a way which gave them pleasure and caused no risk to themselves or anyone else. This must be something to be taken into account in deciding whether it was reasonable to expect the Council to destroy the beaches.'
'This appeal gives your Lordships the opportunity to say clearly that local authorities and other occupiers of land are ordinarily under no duty to incur such social and financial costs to protect a minority (or even a majority) against obvious dangers.' [Tomlinson V Congleton 2003]
Justin McCracken, Deputy Director of the HSE

In response to a challenge over the Harrogate paddling pools Mr McCracken said: 'HSE has produced guidance on managing health and safety in swimming and paddling pools but it is intended to be just that – guidance. It is there to help pool operators, not to provide a straitjacket. Most of it is not relevant to outdoor paddling pools. What all pool operators must do is weigh up the risks and provide precautions which match the level of risk they have identified. They have had to do this by law for 30 years. For paddling pools, issues such as the size, depth and usage of the pool will determine what measures are appropriate.'
'Sensible health and safety is about managing risks, not eliminating them all. The HSE is not in the business of stamping out simple pleasures wherever they appear and at whatever cost. Children's play should not be sacrificed in the pursuit of the unachievable goal of absolute safety.'
The HSE's website gives guidance which include the following advice for Inspectors: ' A paddling pool, even if shallow, involves a low but irremovable risk of drowning (even with parental supervision) but this is normally tolerable. The likelihood is typically extremely low, the hazard is readily apparent, children benefit through their enjoyment and through the learning experience of water play and finally, further reduction or management of risk is not practicable without taking away the benefits.'
Lembit Öpik MP (Montgomeryshire)

'In trying to eliminate risk we are creating a population metaphorically wrapped in cotton wool. It causes problems far greater than a sensible and measured approach to risk ever would. It means that bored children who are denied access to safe and exciting school trips and sports activities seek their kicks elsewhere.
By not managing risk appropriately, we lose the social, economic and personal positives that reasonable risk-taking can bring. By treating risk as a kind of social asbestos, to be eliminated at all costs, we forget that an element of risk is a good component of all our lives-and outdoor activities are a perfect example of positive risk.'
'Give people back their freedom, accepting that some of it will also mean giving people the right to make a mistake or to have an accident.' More...
Lord Phillips, the Lord Chief Justice

In an interview published in the Daily Mail on the 22nd of June 2004 Lord Phillips, now the Lord Chief Justice - added his voice to those who believe that people should be free to engage in sports which are known to carry a risk and that they shall not be in a position to claim compensation in case of an accident.
The judge said: 'I feel very strongly that individuals should not be restrained from carrying on sporting activities that involve risk like hang-gliding or swimming'.
He urged councils not to cave in by outlawing such activities.
Libby Purves, writer and radio presenter

Referring to Ellen MacArthur and other great adventurers in a Times article (8th February 2005):
' these fearless people are an aristocracy of adventure, a tiny minority who assert their human right to push their limits and risk their lives. Meanwhile the rest of us sink ever deeper into a fearful, torpid, timid, risk-averse culture which causes incalculable harm to health, education, mental balance, the spirit of enterprise, even the economy. Every week we have more evidence of the slimy, choking advance of jobsworth regulation which seeks to make us "safe" but actually makes us weak'.
Timothy Walker, Director General, HSE

In correspondence with RALSA regarding the Bude tidal pool: 'The HSE has no wish to curtail the use of tidal pools such as that at Bude. We agree that they offer great benefits to local communities by providing a good alternative to swimming in the open sea'
'The Blue Book is guidance. It does not lay down absolute prescriptions ... common sense would dictate that not all the risk control measures discussed (such as those relating to water clarity, bottom structure and slippery surfaces) would be relevant.
Professor Heinz Wolff, scientist

In a lecture to the all-party group on adventure and recreation in society: 'we have a biological need for risk-especially present in young people-but essential to all. If not managed well by society by providing enough legal risk-in schools, sports clubs, the arts and social & family environments-this need for risk will become mismanaged and cause risk-seeking behaviour by individuals-antisocial, criminal or simply unhealthy. A Risk in Time Saves Crime!'
'Risk prevention for the few means waste creation for all. As resources are finite, society must therefore set priorities based upon which risks are most important. The current attitude of society to many forms of risk is totally irrational, scientifically indefensible, and economically damaging: pre-occupation with safety dissipates a significant amount of national resource.'

Welsh Assembly Minister for the Environment supports open water swimming

In a speech delivered by Jane Davidson, Welsh Assembly Minister for the Environment, Sustainability and Housing at the launch of 'Wales' strategy for water related recreation' she expressed her opinion that people should be encouraged to swim in Wales' natural waters.
The Minister's responsibilities include planning, energy, water, access, waste and the promotion of walking and cycling. Jane is a keen cyclist and walker (she recently climbed Mount Kilimanjaro). Until her appointment as Minister, she was the Vice President of the Ramblers in Wales and has walked most of Wales' long distance footpaths and regularly cycles to the Assembly.