Snowdonia
There are many wonderful lakes and rivers where people swim in Snowdonia . Here are just a few.

Llyn Gerionydd - just north (and slightly west) from Betwys-y-Coed. Can be reached by car. Best place to swim is under the monument to the 6th century poet Taliesin at the north end. The lake is shared with motorised craft but they are supposed to keep clear of the swimming area. We have met none on mid-week visits.

A favourite is Llyn Padarn at Llanberis on the A4806 toward Caenarfon. This is a huge lake, water is not too cold and very clear. There is a safe swimming little bay for kids on the other side of the lake from town, near a car park by the mini-railway station. However, our choice are the beaches in the country park on the A4086 north-west of town (Pictures). A world famous people's restaurant is Pete's Eats - not to be missed!

Llymau Mymbyr is just west of Capel Curig (A5 going west). On a hot day people stop and swim from the roadside. There are several bathing sites in streams in and around Betwys-y-Coed and a stream by the A5-A4806 junction which is popular with locals. Please seek local advise as to exact locations.

Further on the A5 opposite lake Ogwen (Reservoir - no swimming) is Llyn Idwal with a lovely beach. Popular but deep and can be very cold. There have been accidents so please stay near the shore. There are beautiful lakes on the surrounding mountains such as Llyn Bochlwyd but getting there involves climbing. If you decide to climb look out for steep, slippery slopes and loose rocks and make sure you have all the necessary gear with you to cope with a sudden change in the weather including prolonged fog.

So far we have only scratched the surface. There are probably hundreds more places in this area- a wild swimmer's (and hill walker's) paradise.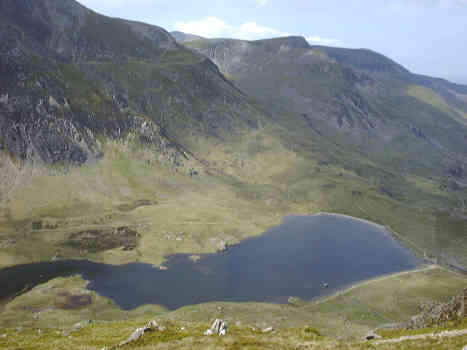 Llyn Idwal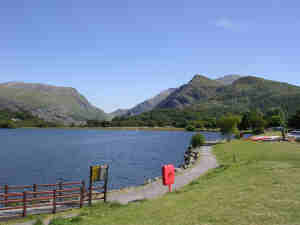 Llyn padarn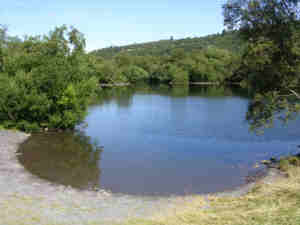 Llyn padarn [Nat Grid Reference SH655593]